Samsung I9000 Galaxy S Review
Introduction
Our homepage is the natural home of the deadliest smartphone carnivores. We normally don't mind but this time is different. Are we about to start feeling a wee bit nervous or what. It's a beast that tops the food chain, instilling fear and terror into the hearts of its prey. Our test lab is Jurassic Park, and the next predator we are about to meet is the T-Rex. Luckily we have a team of skilled keepers, capable of taming it.

The Samsung I9000 Galaxy S has so much muscle that trying to impose your will with brute force is pointless. No sir, this creature needs to be befriended, patted on the back until it starts to trust you. But once it lets you jump on its back it will give you the ride of a lifetime.
Key features
Quad-band GSM and tri-band 3G support
7.2 Mbps HSDPA and 5.76 Mbps HSUPA support
4" 16M-color Super AMOLED capacitive touchscreen of WVGA (480 x 800 pixel) resolution
Android OS v2.1 with TouchWiz 3.0 UI customization
1GHz Cortex A8 Hummingbird CPU; 512 MB of RAM
5 MP autofocus camera with face, smile and blink detection
720p HD video recording at 30fps
Wi-Fi 802.11 b, g and n support
GPS with A-GPS connectivity; Digital compass
8/16GB internal storage, microSD slot
Accelerometer and proximity sensor
Standard 3.5 mm audio jack
microUSB port (charging) and stereo Bluetooth v3.0
FM radio with RDS
1500 mAh Li-Ion battery
Great audio quality
Slim waistline at only 9.9mm thickness
Document editor
File manager comes preinstalled
Secondary video-call camera
Swype predictive text input
Excellent choice of preinstalled applications
Full Flash support for the web browser (after 2.2 update)
Main disadvantages
No flash for the camera
No dedicated camera key
The all-plastic body is a real fingerprint magnet
Feeble loudspeaker
The largest Super AMOLED display in business is a great feat but the Samsung I9000 Galaxy S won't stop there. The slim-fit case has room for a 1GHz processor and a 5 megapixel camera with HD video recording, while the Android 2.1 (Éclair) OS is the latest… uhh, wait a minute, there's a weather update. We're getting reports of a Froyo drizzle on Samsung's party.
Anyway, Éclair it is – with the Samsung's home-brewed TouchWiz UI on top, which we've already found to notably improve the usability of the interface. Oh, and you are also having a choice between 8 and 16 GB of internal storage, which should be more than enough to store those DivX and XviD videos the Galaxy S can play right out of the box.
Applications
Lots of good apps
Samsung filled the I9000 Galaxy S with tons of their home-brewed applications and we really appreciate their work. Most of them are quite useful and can be updated via Samsung Apps – the second app repository on your phone. Whenever Samsung updates some of the current apps or widgets, or releases new ones, you'll find them here.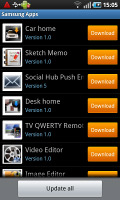 Samsung Apps repository
The Aldiko eBook is an e-reading app. It comes with three complimentary books, but they look kinda awkward. There are various font and color settings, but despite the big screen, it's just not the best e-reading experience. Pages are side-scrollable only and for a mobile phone that doesn't quite make sense. We know how paper books work, but why should we recreate their disadvantages in the digital world as well? Up-and-down scrolling of websites feels much more natural on a digital device.
The AllShare app allows you to stream content to and from different kind of devices (TV or computer). We didn't give it a proper run for its money, but we guess it works over DLNA.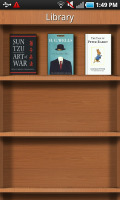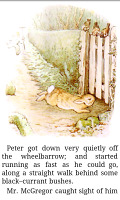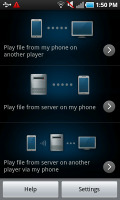 Aldiko eBook • AllShare app
Daily Briefing is the same as the dedicated widget – it shows the weather, stocks and your current schedule. The app works only in portrait mode.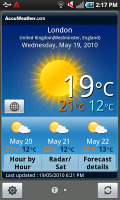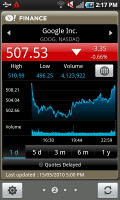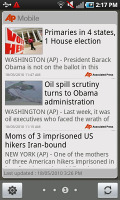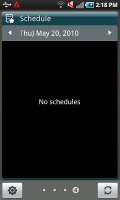 Daily briefing app
The Memo and Mini Diary are self-explanatory. The first app works with only text, while the Diary lets you also attach pictures.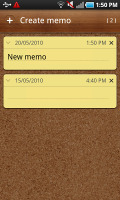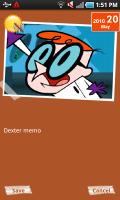 The Memo and Mini Diary
Social Hub is the messaging and media sharing Holy Grail – this one app allows you to create a message (it may pack media content too) and then send it to various services – SMS/MMS, email, social networks.
Write and Go does almost the same job, but updates only your social network status.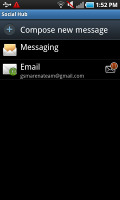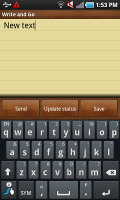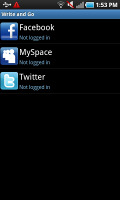 The Social Hub • Write and Go
The
Voice Dialer
was a huge disappointment. It failed to recognize any of our commands.
Luckily Google Voice Search is onboard and it works great. The speech recognition is close to perfect and you won't be disappointed.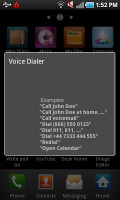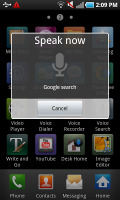 Voice Dialer • Google Voice Search
The Sketch Memo, the Image and Video editors also speak for themselves. The editor package offers various features and functionality and will get the job done if you need some basic editing.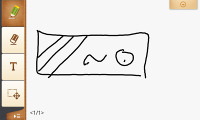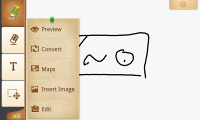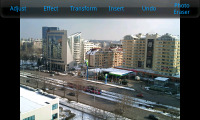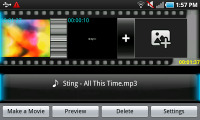 Sketch Memo • Image and Video editors
Desk Home and Car Home are basic homescreens. They pack a bunch of shortcuts and show the time on a nice wallpaper. Obviously Desk Home offers optimization for when the handset is docked on your desk, while Car Home offers easily legible info and items for the times when you're on the go and you have the Galaxy S in a car stand.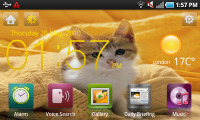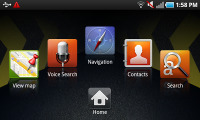 Desk Home • Car Home
Samsung also provided their own IM and Email clients.
A new addition to the application package of Samsung handsets is the popular Layar Reality browser. It's a search app enhanced by augmented reality. Your search results for various POIs – gas stations, hotels, parking, restaurants, shops, etc – are returned and displayed in an augmented reality environment using the handset's GPS and camera.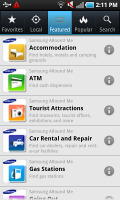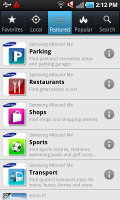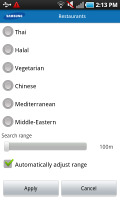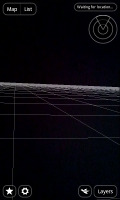 Some of the available Layers • settings • Layar 3D view
GPS with Google Navigation
The Samsung I9000 Galaxy S comes with a GPS receiver, which got a satellite lock in about three minutes with A-GPS turned off. A-GPS can speed this up quite a bit, but requires Internet access.
It comes as no surprise that Google Maps come preinstalled. Unfortunately, voice-guided turn-by-turn navigation by Google Maps still has limited availability.
Still, even without Navigation, there is some kind of guidance: your route and current location appear on the screen so you'll reach your destination eventually, but you'll need a co-pilot to read you the instructions for that one.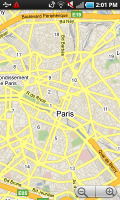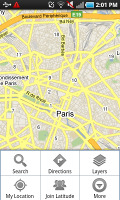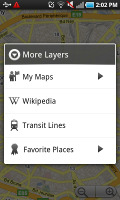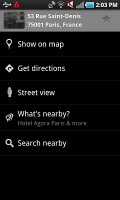 Google Maps
Quite naturally, the app also supports the Street View mode. In fact, this mode is probably the best part of Google Maps. If the Street View is available in the area you're interested in, you can enjoy a 360-degree view of the surroundings. When the digital compass is turned on it feels like making a virtual tour of the location!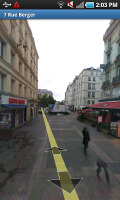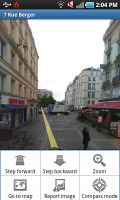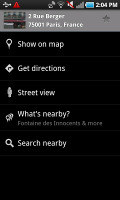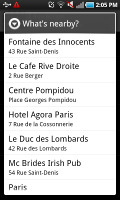 Using Street View • What's near by?
The Samsung I9000 Galaxy S doesn't come with a third-party SatNav solution preinstalled but you can easily snatch one off the Android market. There are both paid and free options on offer.
Android Market is where you get the new apps from
The number of apps in the market is ever growing and a recent survey showed that it has the highest free-to-paid apps ratio out of all the app stores. It's just too bad they are low on 3D games.
The first screen of the Market shows several featured apps. The Market organizes apps and games into two separate tabs and each tab lists sub-categories (e.g. Finance applications, Arcade & Action games). In each category you can select to view the Top free apps or ones that are "Just in".
There's a third tab – Downloads – that keeps track of what you've already downloaded. Do keep an eye on this tab – when updates become available for an app you've installed, a label shows up next to the app name to notify you.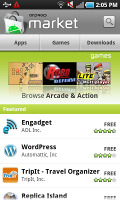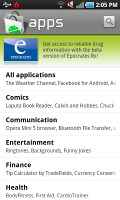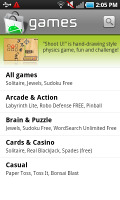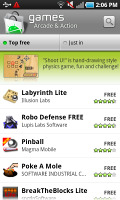 The Android Market in action
Applications range from pretty silly (including one that simulates a doorbell), through fun (e.g. a virtual guitar) to real must-have's (including task killers, navigation software and more), but that's true for every other app store.
Android 2.2 Froyo will allow installing apps on the memory card, so new elaborate apps and killer games are likely to appear as soon as it is released. This will improve the Android Market's chances to catch-up with the Apple AppStore.
Final words
We tested the Samsung I9000 Galaxy S and it tested us in return. It bared its teeth at us and so did we. Ours was a grin. Easy boy, good beast. There goes the new leader of the Android pack. The Samsung I9000 Galaxy S has oomph to spare and even hardened geeks like us cannot help but acknowledge its compelling power.
Not only does the Galaxy have a performance edge over its competitors, it's probably better too in terms of usability thanks to TouchWiz. And the majestic Super AMOLED display is a great reason on its own to buy the Galaxy. Be warned though, you're unlikely to ever go back to TFT again. Meaning that at this point, the question to ask yourself is whether you're ready for a long-term affair with Samsung.