So, for those TouchWiz fans out there, Samsung just announced three new Bada phones.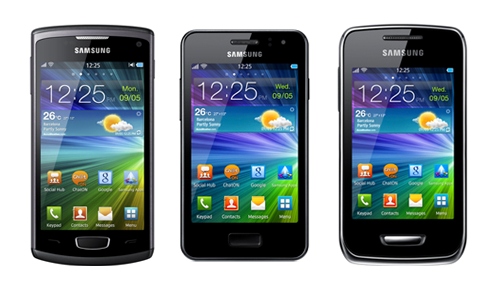 Bada 2.0 that is. Bada 2.0 has finally brought along multitasking, NFC, WiFi-Direct, HTML5 support and voice recognition. The SDK(standard developer kit) was also launched recently.
Samsung Wave 3
The first one is the Wave 3, a successor for the high end Bada Wave 2. This one packs quite a punch coming with a 1.4GHz single core CPU. The Wave 3 sports a 4 inch WVGA(800x480) resolution, a 5MP LED flash autofocus camera that can shoot 720p video, all packed in a 9.9mm Anodized aluminum thin package. The internal storage is 3GB, expandable to 32GB trough the micro-SD slot. It also features a front facing VGA camera.
Samsung Wave M
The second phone is a mid-range handset named Wave M that sports a 3.65 inch HVGA(320x480) TFT LCD touch screen display made of tempered glass. It's 12.2mm thick with a 823MHz CPU and a 5.0MP LED flash autofocus camera. This one too has a front facing VGA camera. It's internal storage is just 150MB, but it is expandable to 32GB trough the micro-SD slot.
The Wave M bares a striking resemblance with the Samsung Galaxy Ace, but with a slightly bigger screen.
Samsung Wave Y
The last one is a low tier phone, the Wave Y, with the same CPU as the Wave M, and the same resolution, but a smaller 3.2 inch display. It also has 150MB of internal storage, expandable to 32GB trough the micro-SD slot.
All three phones have Bluetooth 3.0 onboard and WiFi 802.11 a/b/g/n, USB 2.0 and assisted GPS.
Samsung seems to finally put some decent effort behind Bada, the previous crop of Bada phones having serious gaps between high end and low end that were never filled. Now, Bada lovers finally have a serious choice.